1: We're ready for tour!
Our 2019 QYO Chamber Orchestra, conducted by Sergei V Korschmin, is heading to North Queensland tomorrow for a tour which will involve performances in Bowen, Mackay, Nebo, Moranbah, Glenden, Ayr and Townsville and workshops with local musicians. Thank you to our major tour sponsors Peabody Australia, Qld Government and Vincent Fairfax Family Foundation.
We will be sharing moments from our tour orchestra's journey through our daily blog. If you want to make sure you receive each new blog post we invite you to follow our Facebook page. Otherwise, keep an eye on our tour page for our daily updates.
We had our final rehearsal on Monday where we quickly rehearsed all of our tour repertoire. The music that we will be playing for this tour includes:
Rossini - Overture to Barber of Seville

Beethoven - Symphony No. 8

Copland - Hoedown from Rodeo and Shaker Melody from Appalachian Spring
Plus we will be featuring a couple of our own members:
Saint-Saëns - The Swan (an orchestral arrangement featuring our principal cellist Joshua Jones)

Saint-Saëns - Introduction and Rondo Capriccioso (featuring our concertmaster Liam Freisberg)'

Vivaldi - Bassoon Concerto in E minor (first movement featuring our principal bassoonist Andre Oberleuter)

Rotar - Suite for Chamber Orchestra (a piece that our principal trombonist, John Rotar, has composed for the tour)
We are also performing some songs with soprano Nina Wildman who is a student at the Queensland Conservatorium:
J Strauss II - Laughing Song from Die Fledermaus

Puccini - Quando me'n vo' (Musetta's Waltz) from La Bohème

Gounod - Je veux vivre (Juliet's Waltz) from Romeo and Juliet

Bizet - Habanera from Carmen

Bernstein - I Feel Pretty from West Side Story
For two concerts in Mackay and Moranbah we will be collaborating with Australian country music singer, songwriter and performer Graeme Connors.
As you can see, we have a very long list of music that we are playing so our last rehearsal on Monday involved quickly running through them all. Once rehearsal was finished we were treated to some pizza to give us our energy for our performance that evening.
After our delicious dinner, we then had our first performance - a pre-tour concert so that our family and friends could hear what we had put together. For this concert it was decided that we would perform this concert in the style of an educational concert. Quite a number of our performances on tour involve holding educational concerts for local musicians so it was beneficial to have a practice-run of this style of concert - very different to your usual orchestra concert!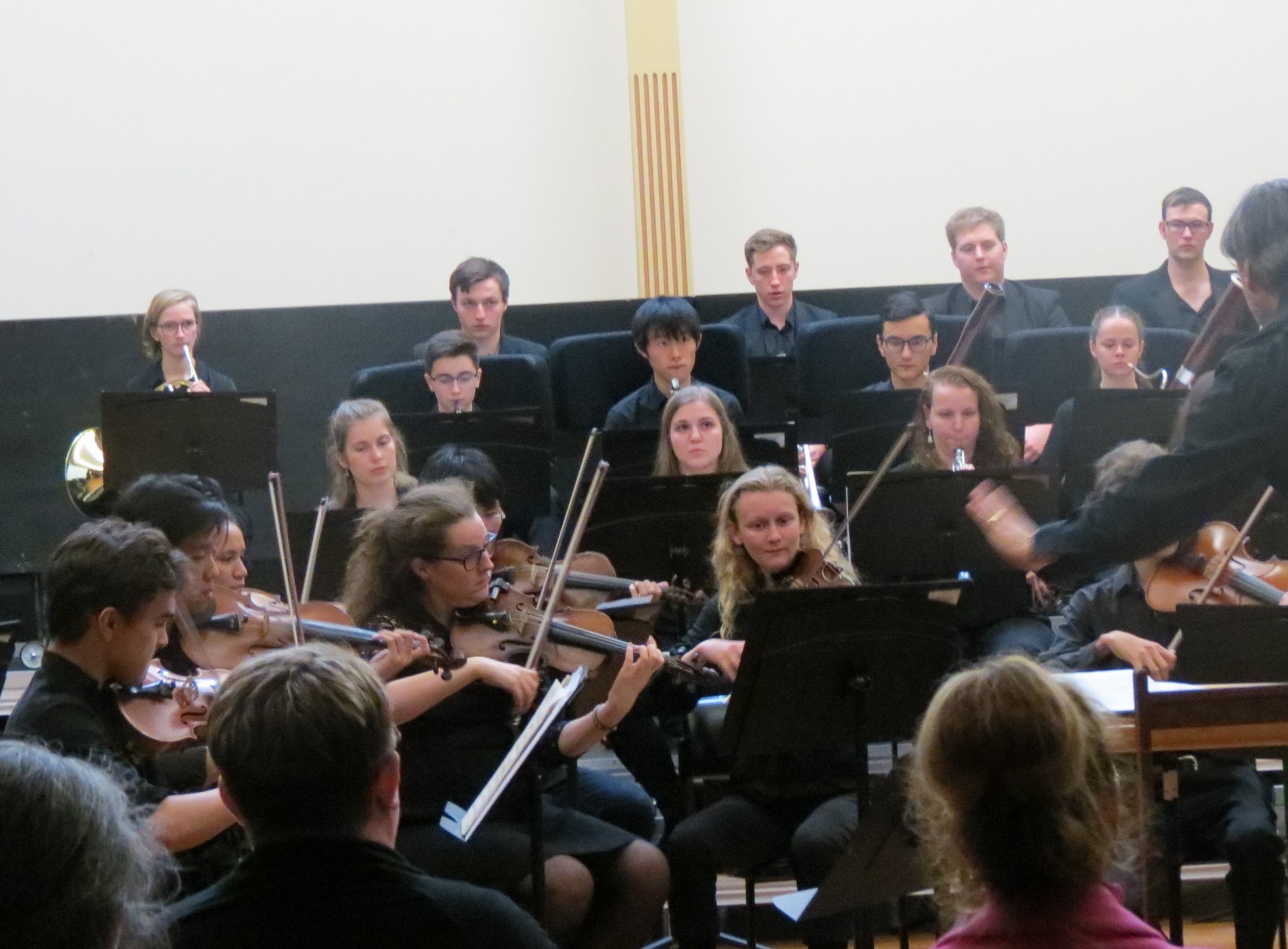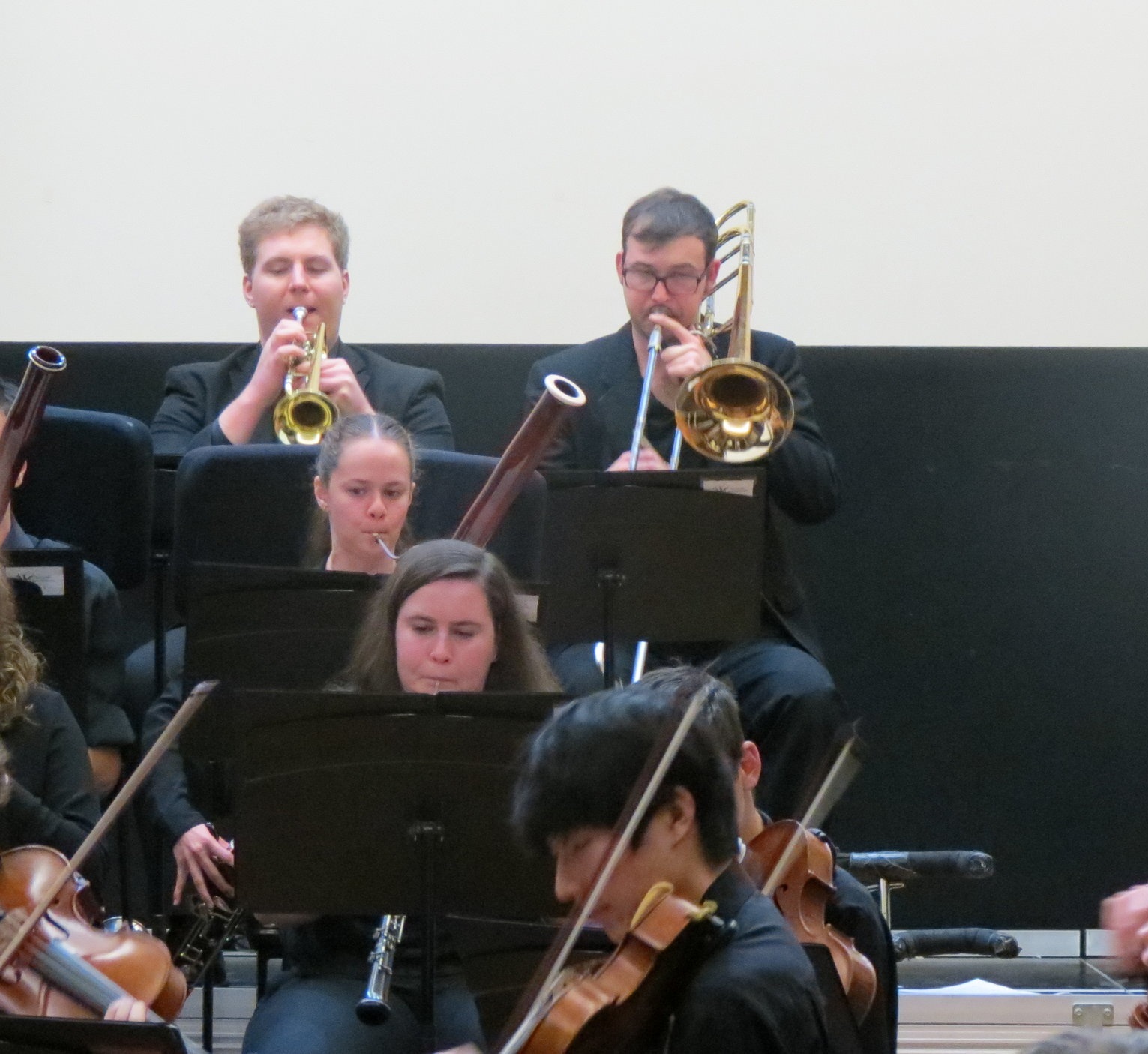 Our family and friends in the audience were treated to solo performances by Nina, Josh, Andre and Liam as well as performances of Rossini's Barber Of Seville Overture, John Rotar's Suite for Chamber Orchestra, and the first and fourth movement of Beethoven's Symphony No. 8. The woodwind section each played short snippets to introduce their instrument to the audience and throughout the concert Sergei made some very funny and informative remarks about each piece that was performed. The highlight of the performance was when Sergei invited an audience member, Jamie Dodd, to conduct Copland's Hoedown. Jamie appeared to enjoy himself quite a lot so we hope that the lucky school student that gets to conduct the orchestra on the tour enjoys it as much!
On Thursday our Stage Manager Noel arrived to load our truck for tour. Items including cellos, double basses, trombones, percussion, groceries, programs and stands were loaded onto the truck. Noel will be travelling from Brisbane to meet us in Bowen when we arrive on Saturday night.
Excitement is high as we all quickly finish packing our bags for the beginning of the tour on Saturday afternoon.
Keep an eye out for our next tour blog which will be uploaded on Sunday!