4: Impressing students of Mackay
We woke up nice and early on Monday morning for our big day of music playing. After eating breakfast, making ourselves presentable and putting on our red tour polo shirts, we made our way down to the bus that would take us to Mackay Christian College (Junior Campus). On arrival, we all helped Noel, our wonderful stage manager, in setting up our percussion, risers, music stands and chairs. We then split up into two groups. The wind, brass and percussion from QYO made their way on to the stage to rehearse with the Mackay Christian College Wind Ensemble. A few of the string players went and joined the Mackay Christian College Junior Strings.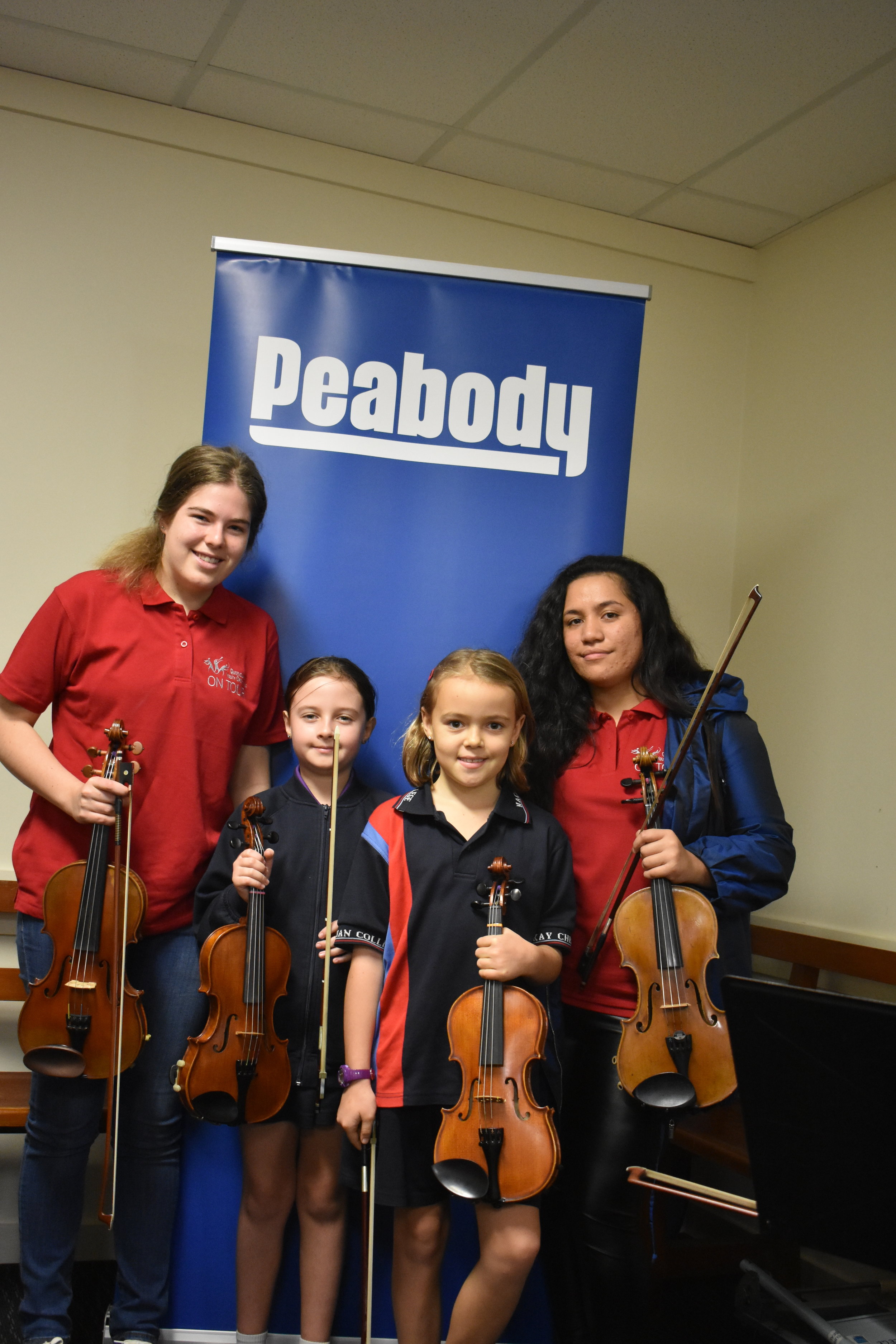 After our rehearsals with both Sergei and Earl Winterstein (Mackay Christian College), we had a much-needed morning tea break. It was then time for our first school concert. After watching hundreds of excitable little people walk in and fill the 500+ capacity theatre, anticipation was building. Many of them stopped and talked to QYO musicians on their way in. The phrase 'big violin' was heard around the room. The concert opened with the combined QYO/MCC Junior Strings. They played two pieces and were met with great applause. Up next was the combined QYO/MCC Wind Ensemble. They played two pieces as well, first conducted by Sergei and then conducted by Mr Winterstein. Many of the QYO wind players musicians were excited to return to playing in a wind ensemble as most of them had started in QYO in the QYO Wind Ensemble.
Then it was time for QYO to perform. The children were first enthralled by some instruments they'd never seen before. Joshua Jones' rendition of The Swan and Andre Oberleuter's performance of the Vivaldi Bassoon Concerto provoked much excitement and inspiration with so many children yelling out they wanted to play the bassoon! Our wonderful soprano Nina Wildman then surprised us all by emerging from the back of the theatre to start with her arias. Princess-like, she weaved amongst the children who were squealing with joy. To conclude, we played Copland's Hoe-Down which resonated amongst the children as most of them have actually been to a rodeo.
After our performance, we packed down and the children went back to their classrooms, but not before high-fiving and talking to Nina, who was a big hit with the children.
Upon returning to our motel, we were given some free time. Most people took this opportunity to have lunch and as ever-hungry musicians, there were a few trips to the local-supermarket to stock up on snacks. The under 18s took this as an opportunity to get out some of their energy playing laser tag at Timezone.
We all boarded the bus again later in the afternoon and were taken to Mackay Christian College Senior Campus. We met the Mackay Youth Orchestra there. Many of the members had never seen or heard an oboe, bassoon or French Horn before and QYO members were happy to demonstrate. Some members of QYO left this rehearsal and went and joined 'Con Brio' which is the junior ensemble of the Mackay Youth Orchestras. The rest of us combined to rehearse selections from Les Misérables and the first movement from Dvorak's New World Symphony. The rehearsals went really well and were conducted by both Sergei and Mr Winterstein again. We then had a much-anticipated snack break before our concert.
The concert began with 'Con Brio' who performed two pieces marvellously. Then, the combined MYO/QYO performed. The audience was impressed by the might of the brass in the New World Symphony and were met with enthusiastic applause by community members, proud parents and teachers. QYO then performed separately. We began with Nina's wonderful arias, which were as fantastic and popular as ever. The audience cheered loudly for an encore from Nina and we happily obliged, performing Habanera from Carmen. After the arias, we performed the whole of Beethoven's Eighth Symphony. As our MC, Mr Winterstein, said, it isn't very often that a full symphony is performed in Mackay. The audience thoroughly enjoyed the experience and we loved playing for them.
After the concert, we interacted with some audience members (with Nina unsurprisingly winning crowd favourite once again) before packing up and heading back to the motel. At this point, it was 9pm and we were all very tired and hungry. We enjoyed the delicious Italian food at Sorbello's once again and walked home exhausted, but satisfied and happy after a long day of music-making. Tomorrow we rehearse and perform with Australian country-music legend Graeme Connors.